Hi Friends. I've been in bed all day. NOT cool at all. I'm going insane and so ready to get out of this apartment.
Tonights Top Two is all about being Free! Here are my Top Two from Free People!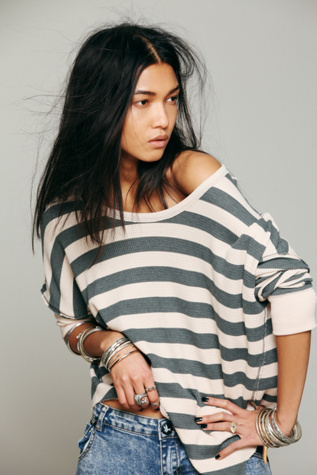 We The Free Billie Jean Striped Tee
Look at those beautiful stripes!!!! LOVE. Obsessed.
Also take a look at that model...flawless??
We The Free Sweep Me Tank
is a MUST for the summer! It's light and airy and a perfect shade!
Also check out how gorgeous that model is too. Gee Gee Gee.
And I can't resist... Heres a bonus
I'm in love with this entire look! Its so so fun! And I love all of the bangles.
The print on the shorts is fun!!!
Stop by Free People and have a look at all of their great pieces for the season.
I'm off for some more rest time.