"Dear Kate Spade, in all seriousness, you completely stole my heart today. Thanks so much for that.  Love Always, Really Obsessed Itsy Bitsy B"
As I was shopping online, I found myself in the midst of what felt like me in the form of an internet store-front. As the webpage loaded, my heart was completely taken away by the perfect and beautiful array of all things striped. 
If you know me, you know I love all things striped and most likely 99.8% of the time I have some form of stripes on my body. Today, they were on my feet, as I wore Red and White Striped socks. I just can't help it...theres just something about those lovely stripes.
This weeks top two come directly from the one who stole my heart.
My TOP TWO Kate Spade Picks
NUMBER ONE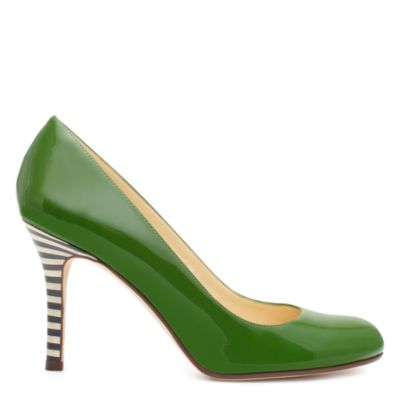 Striped Heel KAROLINA in fern. 
In all honesty when I saw these, I could have cried because I wanted them instantly and couldn't touch them to know they were real.
There are other pretty colors too.
such as Berry (the shade above), Firefly (which is a very bright shade of yellow) & Black
NUMBER TWO
Nero Coat
HOLY HEAVEN this coat is so PERFECT and come on you all know it's just completely ME.  I really think it was made specifically for me...as well as the model wearing it, because it sure does look pretty perfect on her too. Anyway, I want this more than words can describe!!!! REALLY.
Well I think I'm going to go "Oooo & Ahhh" some more over these beautifully striped garments. Goodnight and I think I'll be dreaming in stripes too. Hey! No complaints here.
B's